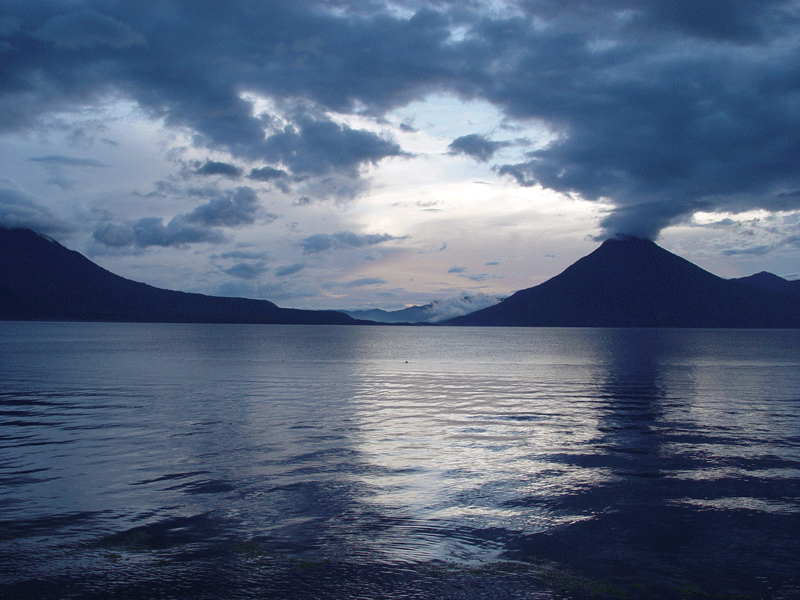 The Lake Atitlán, is considered the most beautiful in the world, it is located in the department of Sololá, Guatemala.
In the lakes margins rise the volcanoes Atitlan (3.537 masl), this volcano is the most beautiful in the world and its situated besides Toliman (3.158 masl) and volcano San Pedro (3.020 masl), is volcano and be climbed. The lake is situated at 1.560 meters above sea level and it has a 18km of longitude. Its deepness is unknown, it varies in different points, however its been probed over 350 km.
The origin of the Lake Atitlán is unknown, some say the lake is an old volcanic cauldron and the other that the emergence of volcanoes interrupted the course of the three rivers that come from the north, which, by bringing water into the place, gave rise to the lake. This lake has no visible outlet.
The communities around the lake have biblical names: Santa Catarina Palopó, San Antonio Palopó, Lucas Toliman, Santiago Atitlan, San Pedro La Laguna, San Juan La Laguna, San Pablo La Laguna, San Marcos La Laguna, Santa Cruz La Laguna, Panajachel and others. To these towns you can travel by boats that are on the edge of the lake and the prices vary from Q 10 to Q30 quetzals and can be purchase the tickets  in our office.
Lake Atitlan has a strong wind known as Xocomil, which usually occurs at noon, when the warm winds from the south colliding with cold air masses coming from the highlands, waving swirling waters of the lake causing waves very strong that can capsize boats.